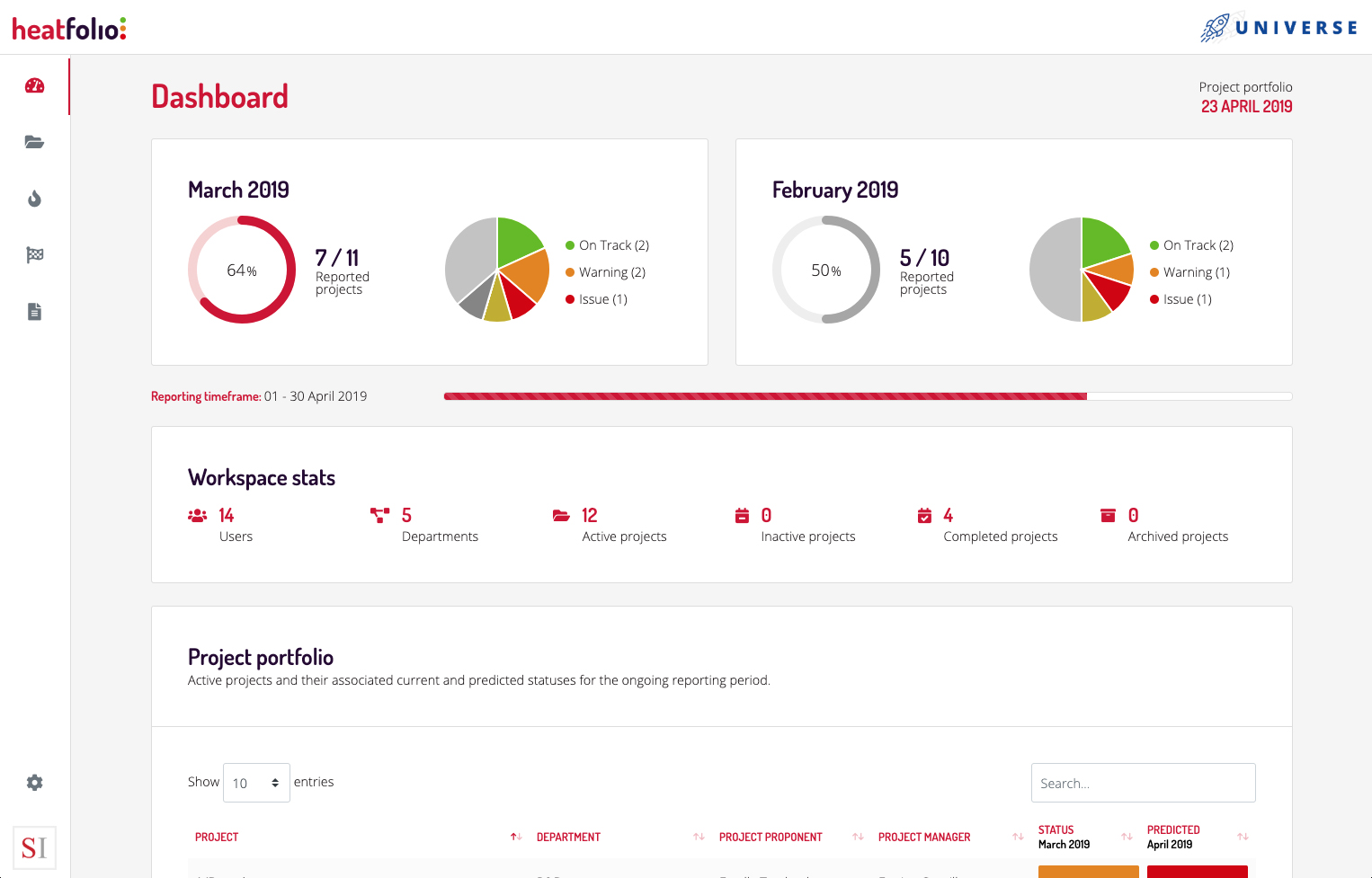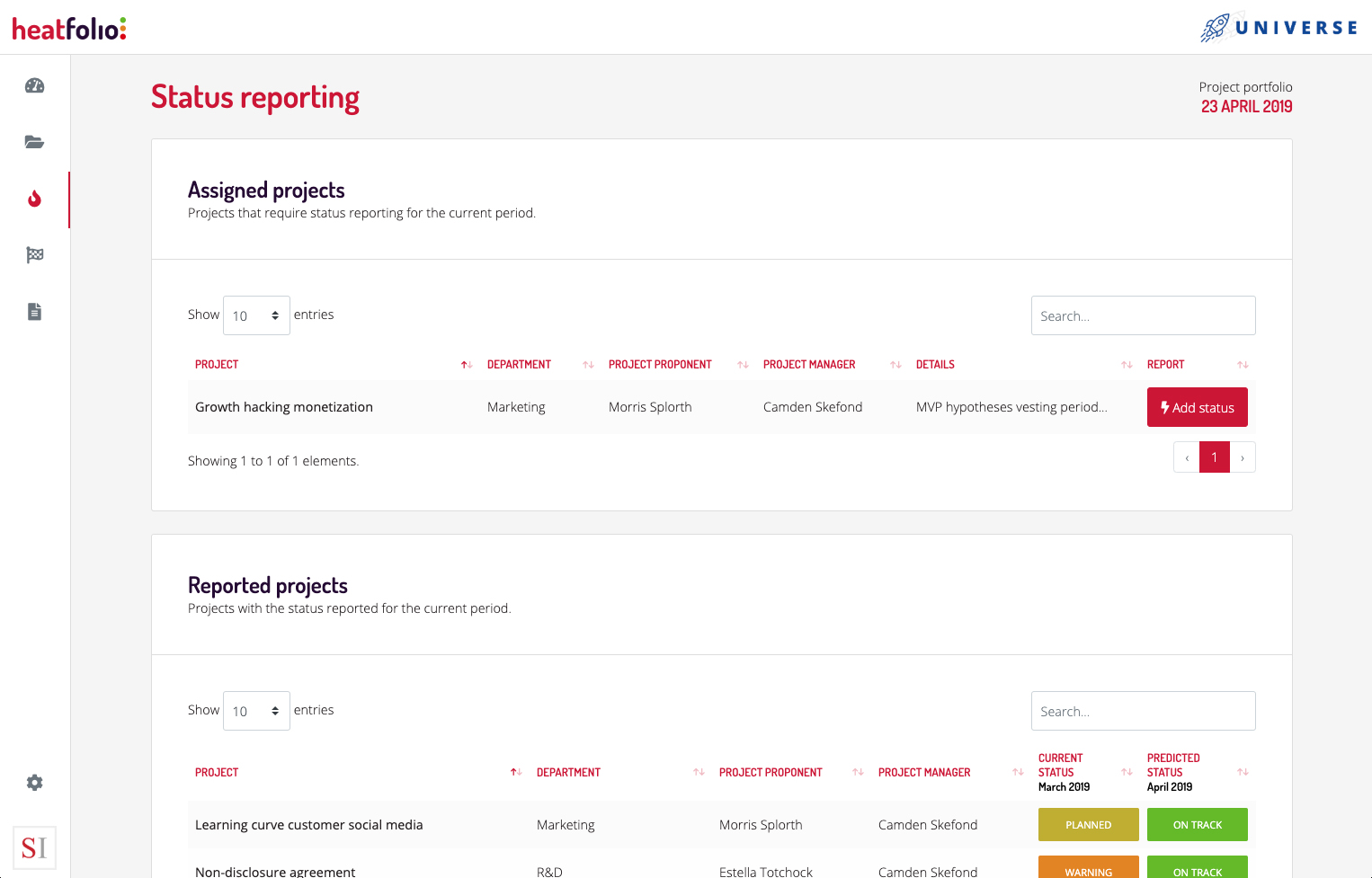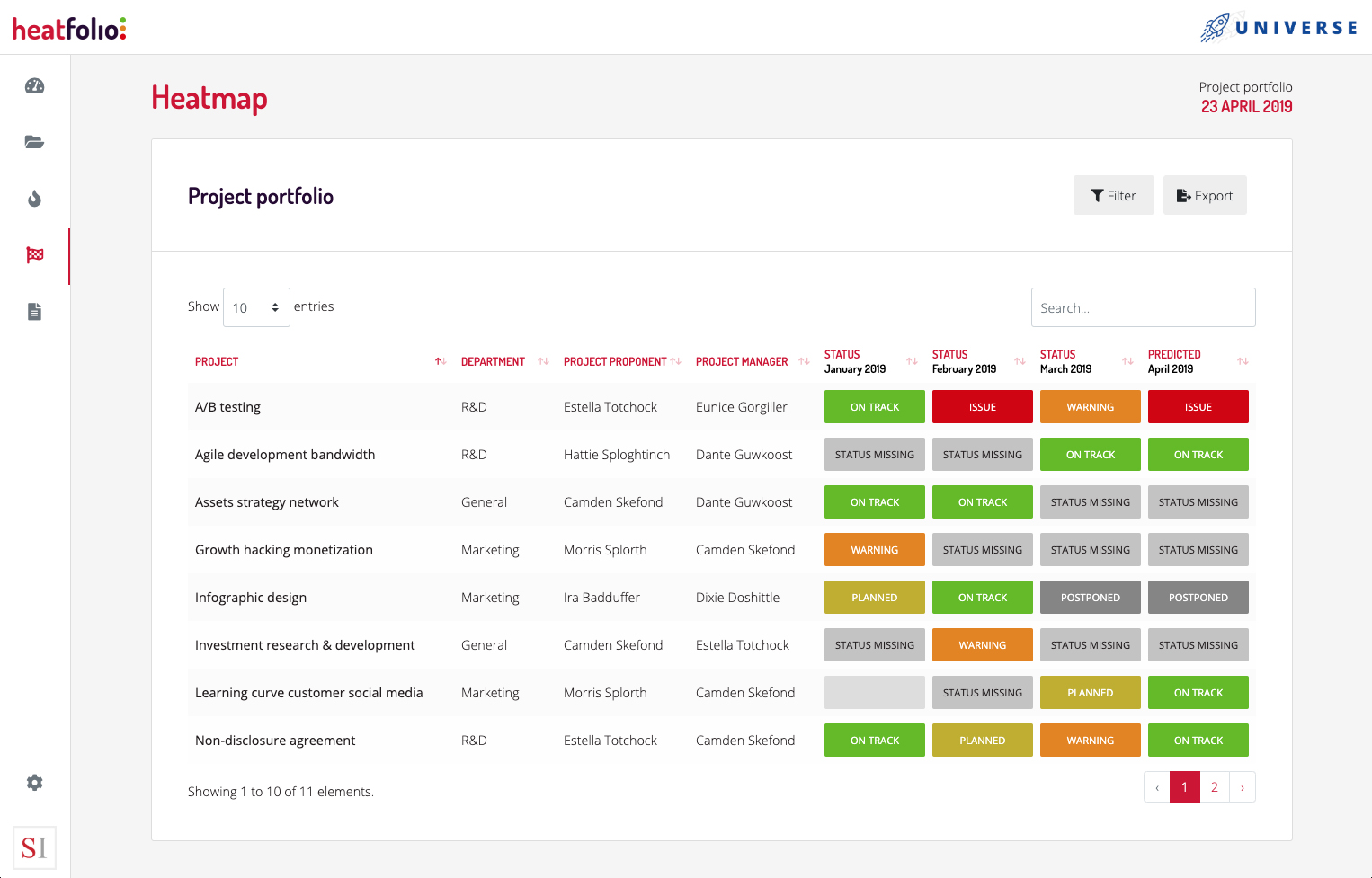 Full overview
heatfolio provides a great overview and full transparency regarding all relevant ongoing projects—within and outside your own organization.
Visualized tracking
heatfolio comprehensively visualizes the progress (cost, time and content) of all important projects your organization is involved in — your own as well as relevant projects of other organizations.
Efficient reporting
heatfolio makes periodic status reporting intuitive, fast and extremely time-efficient for internal and external project managers.
C-Level heatmap
heatfolio displays each project in a heatmap, allowing managers, department heads, directors or board members to identify critical projects that need more attention within seconds.
Fast response
heatfolio enables any person with the right to view a project's status to support fast responses in critical situations.
Beyond borders
heatfolio allows collaboration with external partners and the management of projects involving multiple organizations — without the need to give outsiders additional access to company IT resources (e.g. SAP PPM).
Anytime, anywhere
Access your
portfolio

data

from any device

As a cloud service, heatfolio can be accessed from any device like a tablet or mobile phone, at any time and from anywhere — simply by using your web browser. This allows you to access heatmaps or report projects on the go.
Request heatfolio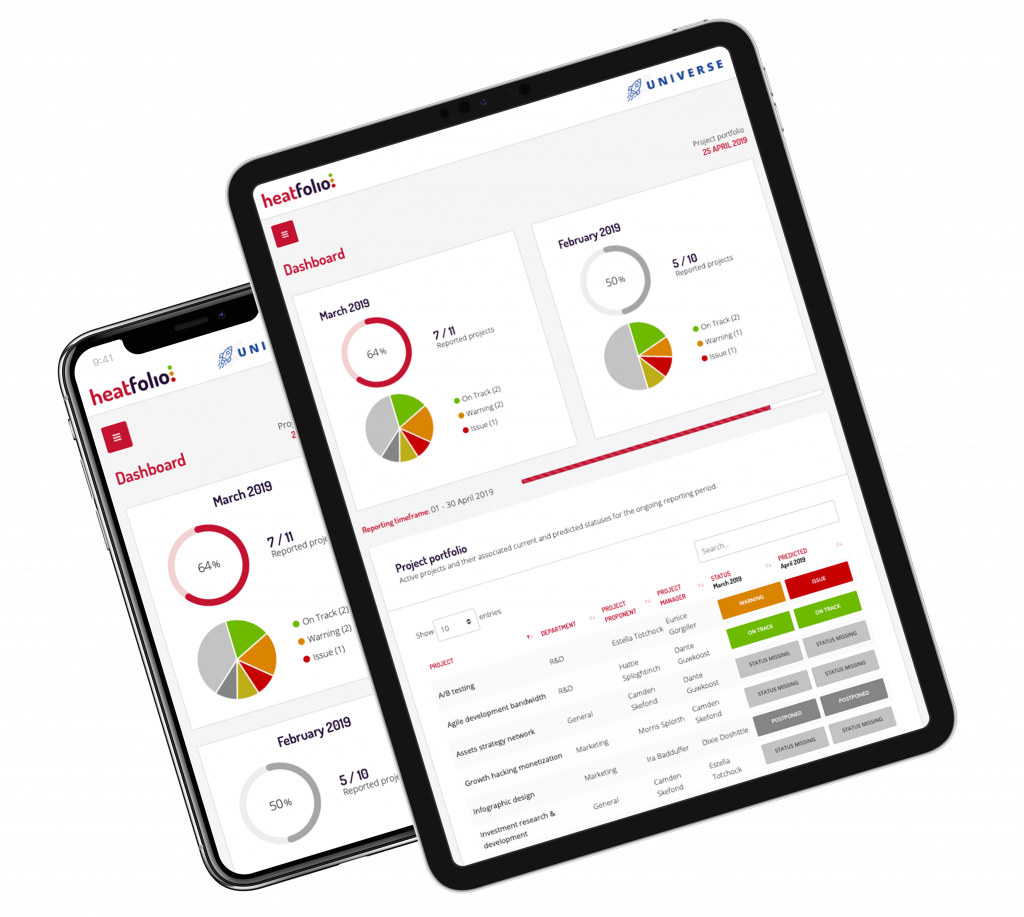 Covering multiple states
Comprehensive reporting
options
The portfolio reporting methodology used by heatfolio covers multiple options that status reports can be based on for each period, assuring both a flexible and unified approach.
What is the current status of a project?
As financials & relevant project data become available only at the beginning of each month for the one that just passed, heatfolio collects the entire status of a project right when this information becomes final for the project managers. The current status (period) always refers to the status registered at the end of the previous month.
What is the predicted status of a project?
Portfolio reporting requires a timeframe of at least a few days in each period to allow project managers to fully compile their project reports. Depending on the organization, this period can increase to 2-3 weeks. The predicted status covers the progress a project makes from the beginning of the ongoing month to the date of the status report, and also includes the project manager's estimation regarding the status the project will achieve by the end of the ongoing month.
Why reporting both current and predicted statuses?
Time may pass between the date when current project information becomes available and the date it is reported by the project manager. By addressing these periods individually, top management always has a comparison view (delta) in its reports that shows how a project progressed during the previous month as well as whether any potential issues might arise for the month in due.
Never miss a thing
Reporting
current

and

predicted

periods

heatfolio allows portfolio reporting to focus on two periods: the current period, which refers to the full status registered by a project at the end of the previous month, and the predicted period, which allows a project manager to report its status estimation for the month in due.
This allows top management to always have the most up-to-date information in its reports.
Knowledge base
Request heatfolio
Going in depth
Assessing
time,

cost


&

content

information

If the current status report signals a potential flaw and is marked as other than "on track", the application requests more information based on a time, cost & content overview, allowing the project manager to go into details and flag specific elements affecting the project.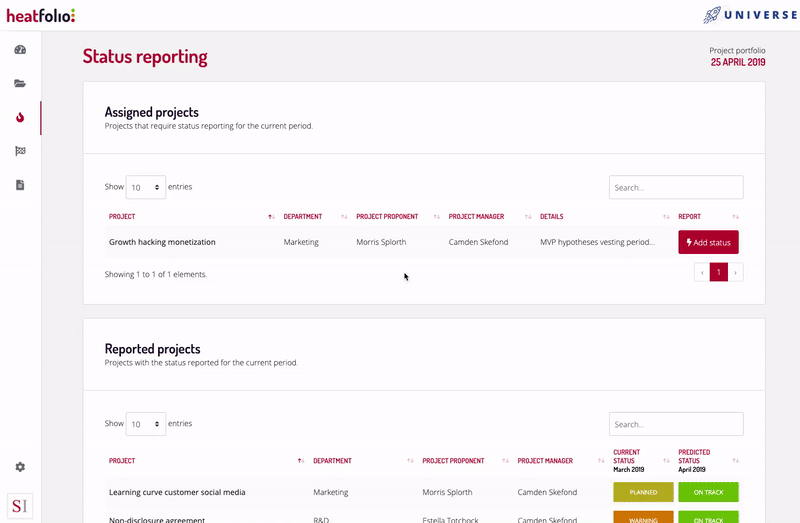 Easy reporting
Status reporting in a focused 3-step procedure for each project.
Comprehensive reports
Monthly heatmap outline and full detailed report.
Fast portfolio overview
Always stay abreast of the current status of your project portfolio.
Structural approach
Assign users to roles & departments based on your organization.
Custom project fields
Adapt the reporting procedure to your needs by defining custom fields.
Responsive & secure
heatfolio uses responsive functionalities and secure operations.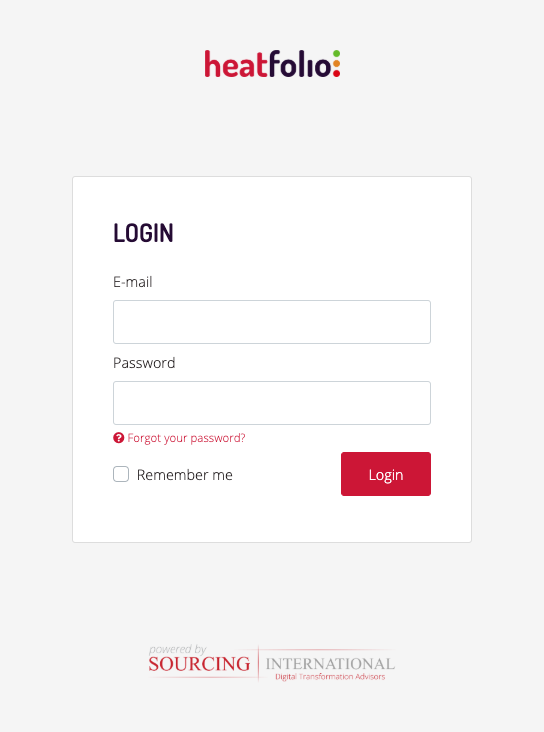 Extending access
Beyond
organizational
borders
heatfolio allows collaboration with external partners or different companies under the same hood.
Request heatfolio
heatfolio is a portfolio reporting solution that helps you collect relevant

As part of our most recent roadmap release, we're introducing a

This is the story of a consulting start-up crazy enough to
Subscribe to our newsletter
Become part of our community
Looking for ways to improve your portfolio reporting procedures and empower project managers? Subscribe to our newsletter and discover news, portfolio reporting highlights and opportunities. Plus, you'll get to learn about new features we plan to release.
* Don't worry, we don't like spam either. And we won't send any ourselves.