We're introducing multi-project collaboration for project managers and deputy project managers
As part of our most recent roadmap release, we're introducing a way for project managers and project deputies to work together in their portfolio reporting activities.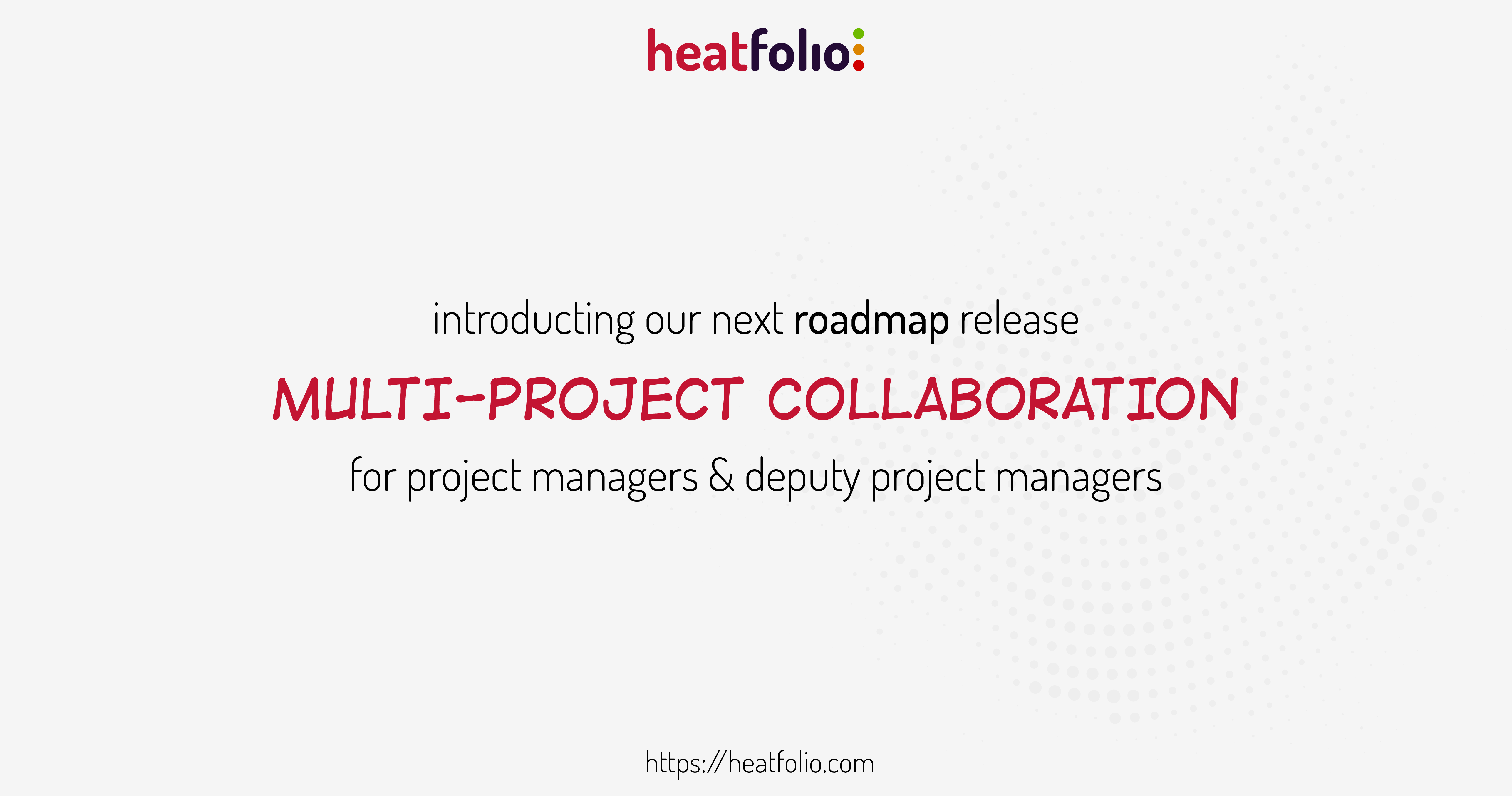 We know it might be quite challenging throughout a long period of time to leave all the project reporting responsibilities with a single person. Sometimes it might be that, as a project manager, you are unavailable, plan to go on a holiday or even require some information that completely relies with another person. Other times it might be that you are working closely with a deputy project manager and you'd like to split the portfolio reporting tasks.
That's why we're making it possible starting with our update this month to assign deputy project managers to a project, as colleagues that will not only see the project details or previous status reports (which is the definition of a project viewer), but also will be able to submit new status reports for projects and edit currently submitted statuses throughout the reporting period. All of these, while being also able to edit projects up to some extent, based on their user role.
What's new?
As a project manager or administrator
If you are assigned as a project manager for a project or you are a workspace administrator, you will see in any project detailed view, on the bottom-right side of the page, a new section called "Project deputies".
Simply click the action button to manage project deputies, select the colleague(s) you would like to assign this permission to and save the page. That's it! Right after, the selected persons will get access to this project as a deputy project manager, allowing them to see the entire details of the project, view previous status reports (through the heatmap) and add or edit current status reports.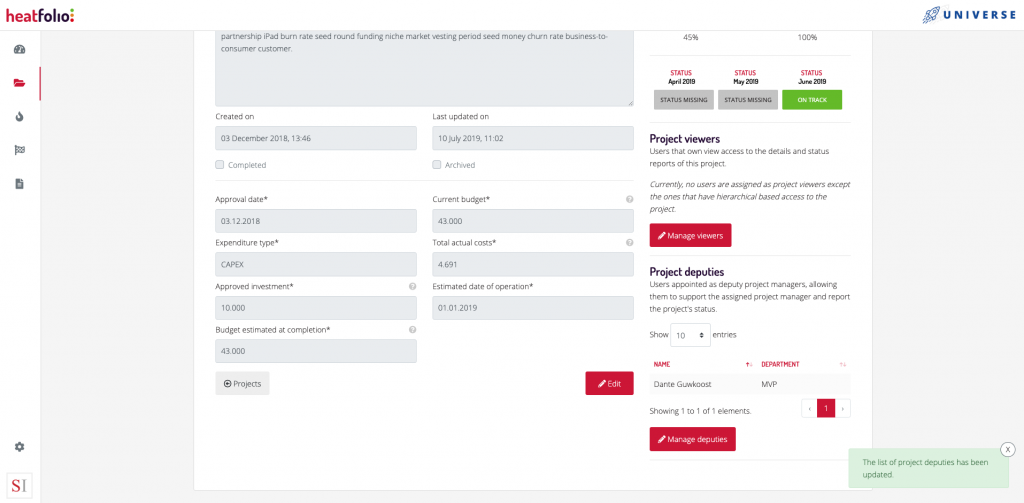 Users with the "Reporter" role or higher will also be able to edit all the second-level project fields. Users with the "Delegate" role assigned will only be able to manage status reports, but not to edit project fields.
As a deputy project manager
If, on the other hand, you've been currently assigned to a project as a deputy project manager, you will see the new project available in all of heatfolio's sections, just like in the image below.
Projects assigned to you as a deputy project manager will contain a mark "D" right after the project name, which on hover will inform you about the type of access to the project.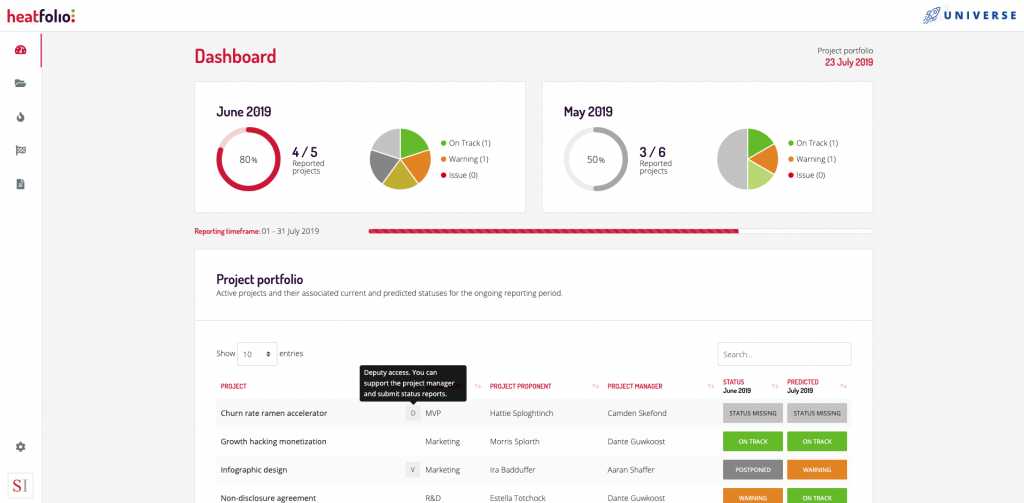 A similar behaviour has been introduced for the projects where you receive a viewer access as well, through the mark "V" placed after the project name and informing you about the access rights you have for the associated project.
For newly assigned project deputies, the project will become available for status reporting right away: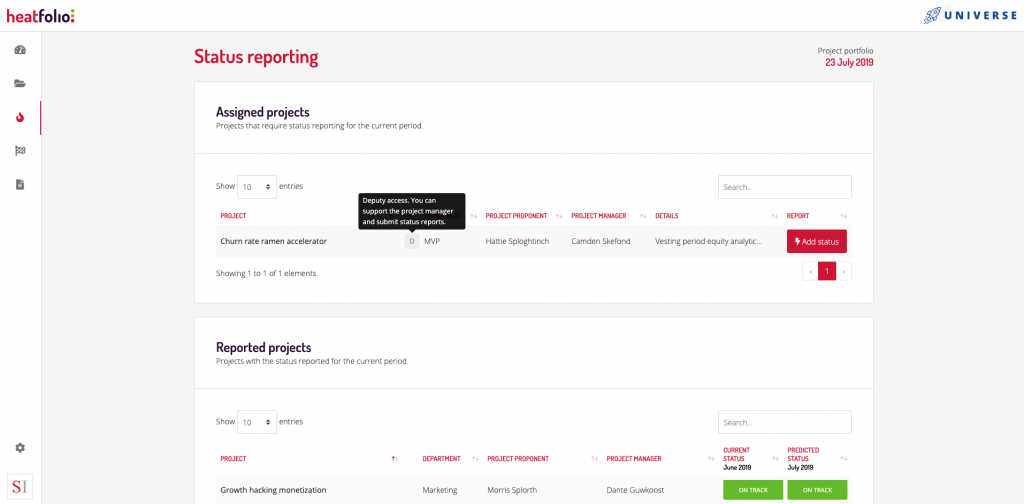 What else has been improved?
Through this update, we've brought several minor design and user experience updates in different sections of the application. Besides these polishes to our interface, we've also chosen to rename the concept of inactive projects / project activation (where applicable) to pending projects / project approval; nothing more than a conceptual text change, all the functionalities remaining exactly the same.
Otherwise, no main features of heatfolio have been modified.
For further references, head out to our Knowledge base.
This update comes as part of the new v1.2.0 heatfolio release available to all workspaces starting with the 24th of July 2019, 20:00 CET.