We've launched an enterprise SaaS solution in less than one year. And this is how we did it.
This is the story of a consulting start-up crazy enough to dive into the software products market as well and create a B2B cloud solution.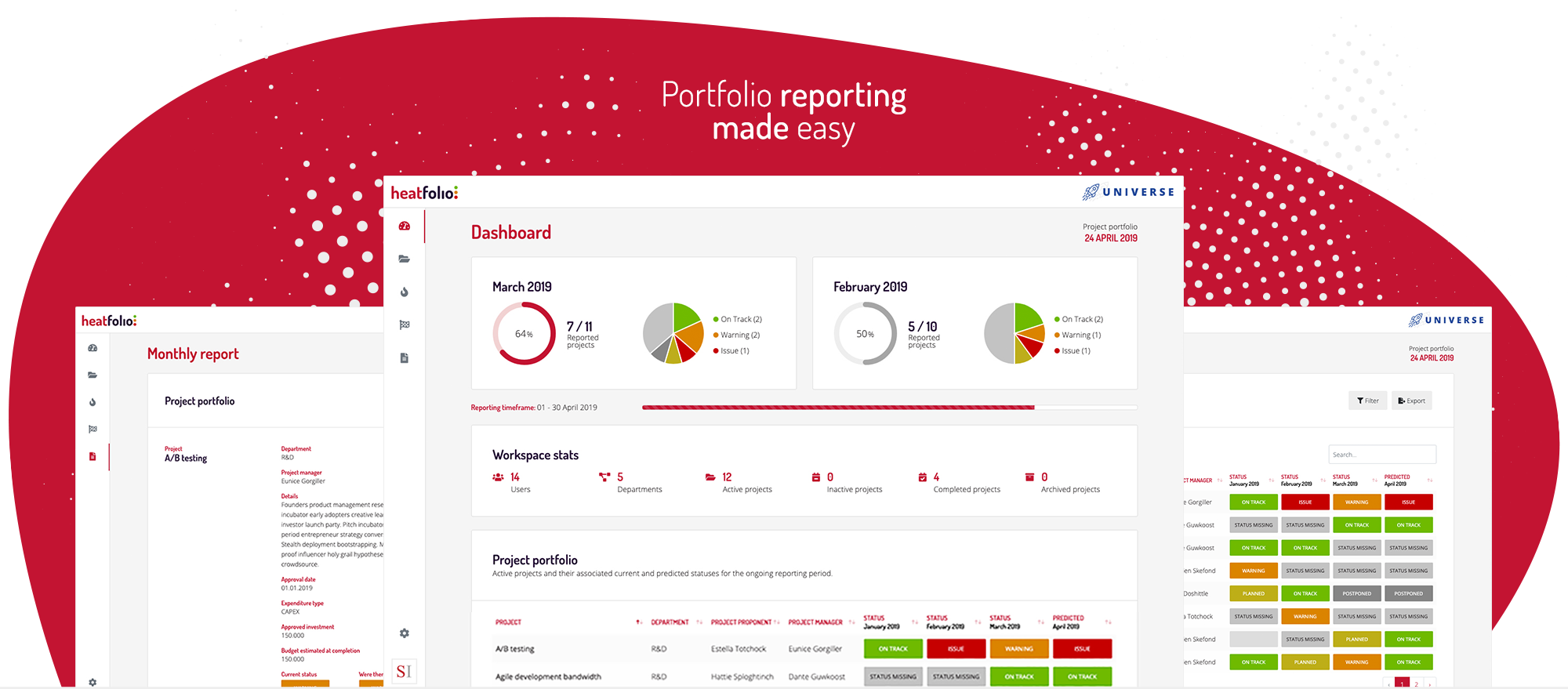 What you see above is heatfolio, the SaaS solution we created in just under a year to help companies get a better overview over their ongoing projects and know where these are headed towards. Let's see how it all started.
The Problem
We at Sourcing International were closely working with the top management in an energy company when we identified an issue that would end up as the seed of heatfolio.
Somehow, as your company grows, you inevitably end up in a position where it's harder and harder to keep trail of everything that happens around you, especially when the depth of information plays a constantly increasing role. The problem we identified was that the CxO had lost track of their many IT and other investment projects, both the small — but also important — and the multimillion ones.
From replacing a turbine to launching a new system, they weren't quite able to find out in a few minutes how that project was advancing, and more than that, how all of their projects were progressing. In a big company, one would need at least a status meeting for each project or group of projects, maybe several e-mails and a few excel sheets accompanied by 1 or 2 PPTs in the form of PDFs to find out how things are going on. Sounds familiar?
The Idea
"Let's combine all of those!" was what we thought of doing: we actually believed we can eliminate the noise in project status reports, keep only the relevant information and wrap it up in a really nice form at which, if a any director or board member looked, they would know in less than 1 minute which issues they need to address in their project portfolio and which not.
Of course, our first draft looked much more primitive than what we achieved to date, but let's just skip our initial mockups for now, yep? 😄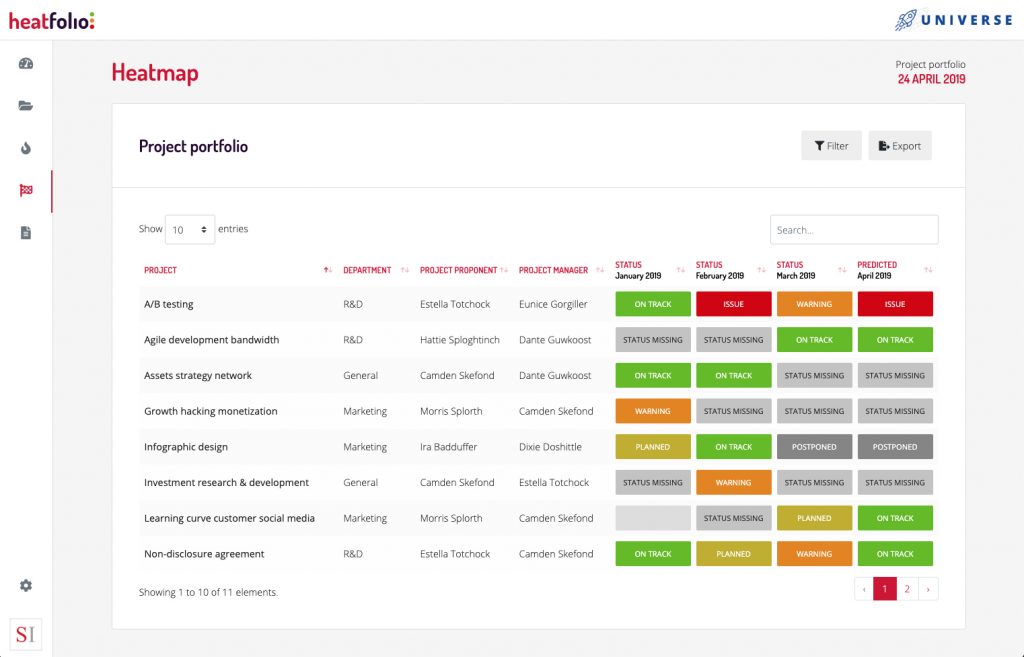 This is how we wrap the project status reports in a single heatmap view.
This was our bet, that we could cut down any unnecessary data and focus on the relevant information, in order to provide swift periodical reports to top management while making status reporting useful, intuitive and fast for project managers. It was the beginning of 2018.
The MVP
With the idea of leveraging transformation through a steady approach that would span until launching the full product, we proposed to digitize the project portfolio reporting practice and simplify the status collection process.
We started using an online form to get information from project managers, shortly after which we developed an iteration of the tool using our own Sourcing International infrastructure and technologies (aham, this means that the form was now integrated into our website and wrapped by a login). We had to move fast in building an MVP and we certainly did so.
Then, we would manually process the data we collected into monthly reports, introducing two types of reports: a heatmap and a full report, together with a methodology focused on collecting the project's status for two time periods: the previous and ongoing ones.
We still had to manually process the entire data though and fulfil individual demands for reports, but we validated our concept really quick, through positive feedback and additional requests. This took us between 2 to 3 months.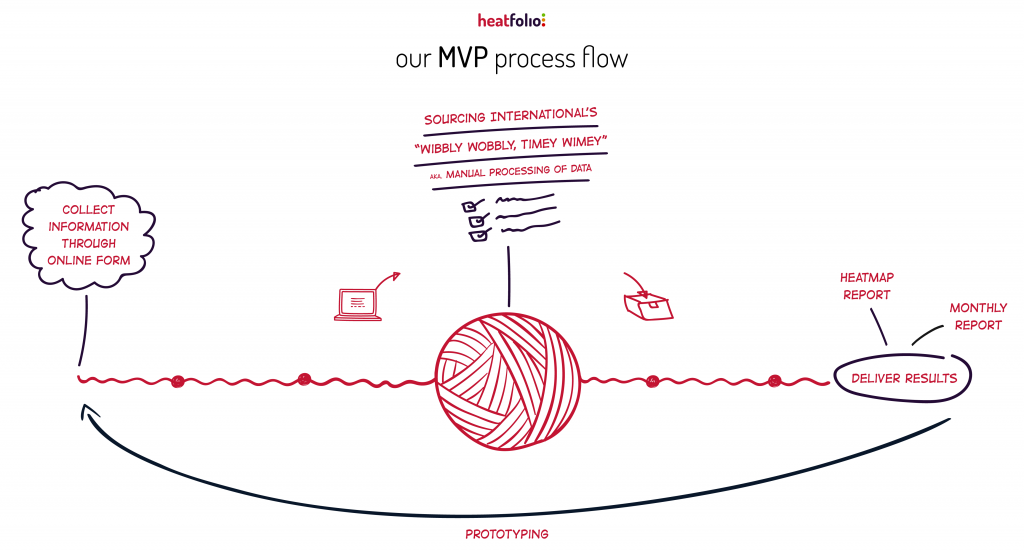 The Momentum
Eureka, it works! 🎉 Our first customer was really happy with the tool, so confident that it doubled the number of projects they had and involved another department into what would soon become heatfolio. A nice way to wrap-up the Spring of 2018.
This is also when most of the fun began. Planning our processes, workflows and use cases, together with handling technical steps to cover architecture, database, design, development, security and testing, we had to carefully tackle everything. And then the sleepless nights came, but to be frank, it was such a cool and rewarding set of activities that few words could describe what we felt… or still feel.
In the second part of 2018 we checked most of the items we had to take care of to launch our cloud solution to market. We made things happen, we broke stuff or smoothly handled mistakes, we succeeded with some targets, failed again with others and we redid these steps a few times, just like in a carousel; but in the end heatfolio was online.
The Launch
2019 came soon enough and we launched our cloud solution with the first customer. Our last step in the inauguration process was to make sure our users feel as comfortable as we do with the application: so we created a comprehensive documentation as a knowledge base and a set of trainings meant for all of our user roles. It was game on.
Ever since, we've been actively working on improving the application and developing new features (heck, we even have a roadmap for the next period).
Now you know one of the stories that surrounded us in the past year and how we managed to bring a software product to life. We'll be back maybe with some more tales and who knows… the best is yet to come.